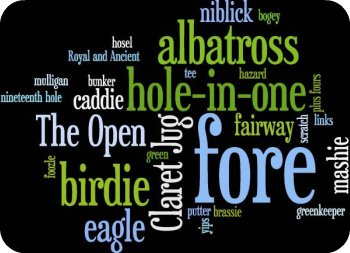 When a player hits the ball from the tee to the in one stroke. AKA a hole in one!
If your husband ever accomplishes this, prepare yourself. His fellow golfers will have showered him with adoration, the guys in the pro shop will take his picture and maybe even give him a plaque, and all lookers on will hail him as a hero.
He'll likely expect the same treatment from his loving fans at home.

This refers to the second half of the game, since the full round is 18 holes. This is when you want hubby to call you to give you a heads up about his ETA.
Players use a coin a small token of some sort to mark their ball's position before lifting it up off the green.
Personal ball markers are a clever way to keep you on your hubby's mind during the game and make great little gifts or stocking stuffers.
A caddie carries the golfer's bag around the course. Kind of archaic if you ask me, but that's the tradition.
Most people use golf carts to get around, but during official tournaments, real golfers walk, and rich golfers hire caddies.
Do I really need to explain this one?
A warning shout to other players who may be in the path of a killer drive.
The typical grouping of players in any given round. If your hubby goes with his buddy, they are a twosome and will be paired with another twosome.
Cute, huh?
Nicely put: an unskilled golfer.
Too many hackers on the course will make your husband late for dinner.
When a right-handed golfer hits a ball that unintentionally curves sharply to the left.
When a golfer plays the ball intentionally short of the goal in order to set up a nice shot.
Another term for a golf course, though technically it refers to a course situated along a coastline
The angle between the club's shaft and face.
Fancy name for a do-over. No penalty.
As if…
It's a shop. What else do you need to know?
Shots on or near the green.
When your husband says he needs to work on his short game, he will likely be practicing putting, chipping, and pitching..